Hello, my fellow Cuppers! It's time to take a look at all the wild, woolly, and wonderful projects that have appeared this week!
This term, I'll be trying something a little different -- discipline. That's right, I'm going to limit myself to exactly one gob-smacking project per class, per week. My older posts got overwhelmingly huge, and this way, I get to focus on each person's project. So bear with me as I try to control myself!
Let's not waste time, shall we? Allons-y!
Ancient Runes
As much as it galls my sneaky Slytherin heart, I couldn't resist
millysuazo's
too-adorable Gryffindor sweater (and its wearer!). Keeping our four-legged and winged friends warm is always going to be a priority here in chilly Hogwarts, and millysuazo has set the bar high! Congratulations on your first House Cup project!
Astronomy
First Years are not messing around, you guys. My first two projects of the term are both from First Years, and are they winners or what?
Blushed
decided to show off their dyeing skills, inspired by the asteroid belt, for a project that is out of this world (I know, I couldn't resist).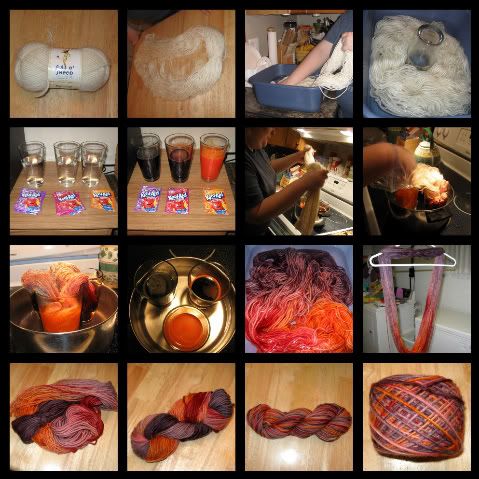 Care of Magical Creatures
Yesterday was Mother's Day, and what could be more fitting than a project dedicated to a mother?
roomc
knit a perfectly squooshy-looking wrap for their mother -- and doesn't the color just scream "SPRING!"?
Charms
When a project forces you to make the same noise that you usually reserve for three-week-old kittens and puppies, you know you have a winner. Cuppers,
kamilasol
is that winner. Who knew cacti could be so cute?!
Defense Against the Dark Arts
I often end up inadvertently wearing my food, so it came as a bit of a surprise to me when
slightlyfoxed
did so willingly. But who am I to argue with a sushi headpiece?
Detention
Shut the darn door,
NarcissaM
. You blew me away (at least I wasn't exterminated) with your Paper Daleks! Doctor Who fans, beware -- this may just send you over the edge into obsession. Don't miss the Doctor making a cameo appearance!
History of Magic
In a flash of inspiration,
BrineyDeep
managed to perfectly encapsulate both Ron's charm and awkwardness -- in an unexpected form! I can imagine baby Ron sporting two expertly knitted by mismatched slippers, can't you?
Muggle Studies
PatriciaO
, another stellar First Year, collected gorgeous unspun fiber in a bright rainbow of colors, and spun it into yarn that reminds me of delicious, decadent cotton candy -- or maybe a cool cup of sherbet? It's also tempting me to break out my sadly neglected spinning wheel!
Potions
Spring has finally sprung, but when I saw
GothKnitty's
blanket, I yearned for cold weather again, just so I could wrap myself up in its folds! The jewel tones are mouth-wateringly bright and so inviting.
And there we have -- success! It was so hard to choose just one project -- everyone is doing such amazing work! What classes are YOU planning on taking this month?
Love and scales,
theherocomplex