Good Thursday Evening Everyone!
I've gotten a few responses about being followed for advanced studies, and I'm still accepting more! So
please feel free to let me know
if you wouldn't mind me checking up on your progress on your OWL throughout the term and maybe doing a mini-interview or two! It will all be fun, I promise.
So far I've had Aikaterini of Gryffindor and Dawntreader7 of Ravenclaw volunteer for the OWL side of things. And they have some very ambitious OWLs proposed for this term.
Aikaterini is doing HoM, option 2! She's proposed to make lots and lots of scarfs for Sirius, Harry, Ginny, Hermione, the Weasley Twins and Luna! They all look lovely, but I'm looking forward to seeing the Hermione and Luna scarfs (because they are in two of my favorite colors). Look for the pictures of her swatches for those two down below.
Dawntreader7 is doing a CoMC OWL, Option 1! She's proposed to make 2 cowls, a scarf, a shawl and monster chunks!! Everything looks awesome but I'm really excited to see the Graphorn cowl because of it's lovely dark purple and to see some monster chunks because they are so very, very cute. See a shot of all her yarn lined up and ready to go under Aikaterini's swatches.
Aikaterini's Hermione Swatch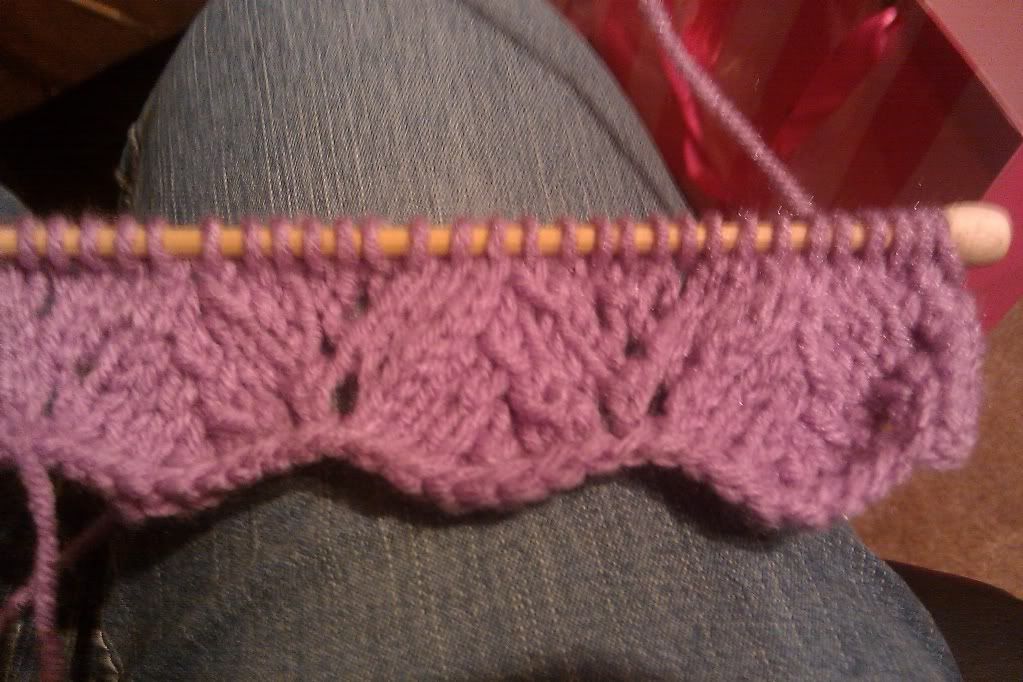 Aikaterini's Ginny Swatch
dawntreader7's Yarn Ready to Go!
And I suppose I should share a little bit of my Herbology OWL. I'm going to be making a cabled cardigan and I finished my swatch last weekend:
spartyliblover's Swatch
I cast on Tuesday night and have about 4 rows done. Hopefully I'll have a full cable chart repeat done by next week to share with all of you!
Keep submitting those OWL proposals and remember to get in touch with me if you'd like to be followed throughout the term!