At the end of term we seem to all get a little goofy. Seats fill up on the St. Mungo's Express, the shiny new firsties are a touch more seasoned, and the upperclassmen begin to play it cool even more than usual. So here is our final edition of Weasley Worthy for Winter 2011 term. Enjoy the madness of your fellow house cuppers.
Anyone named "

Theknittedjuggler

" has to be funny right? This happy Gryffindor had quite the yarnbombing experience trying to complete her transfiguration homework:
"Hello! I've made a little tag square..totally unexpected! I found myself on the jersey shore..and well, I have to share the story…
There I was, Tying a square to a post, while hiding in the dunes..because cops were patrolling. All of a sudden, I look up on the beach where i thought I was alone..and I wasn't. At 7:17 am on Feb 4, 2010, I saw a guy go down on one knee and propose to his girl. Right as the sun was rising. So here I am, hiding from cops, yarn bombing, and ruining a very private moment. I finished the tie, but I was trapped! As soon as she gleefully said yes, I stood up, yelled "CONGRATULATIONS" and ran off."
In the Herbology classroom

Jjkawano

showed us the lighter side of one of our potions professors....
"I went with option 1 and crafted a rose. I live in an area known for its roses (I dont have any growing in garden, as Hubby doesn't like them) but my mother has a few bushes and so does my neighbours. I made a pink rose and attached it to a hair clip-thingy. Here is a photo of my mother wearing it for me so that I can take a photo of it. She doesn't look too happy in it, as she was yelling to my eldest child to get his school bag.
let me just say, I wish I was smelling roses right this second, but I think I have two nappies/diapers that need changing!"
Spring 2011 Sorting hopeful

Lisamarykay1

made this sweet and funny tribute to the hand that feeds her for Potions.
"This is my Potions homework submission. I am so excited with this assignment. I go to the library to study my muggle studies and within the library is a wonderful cafe. Kim, the owner, just opened the store in January and already has multiple daily customers. She is warm and friendly to everyone and is very strong even when things are slow and difficult. She is very nice to talk to and I believe that owning your own business and working it alone (most of the time) from 9am - 9pm requires a strong woman. I gave the sandwich to her this morning and she LOVED it!
I present my The Book & Bean Sandwich for your consideration: "
Have you considered Slytherin Lisamarykay1? We have drinks to go with your sandwich.
Charms can sometimes be serious business.

Cmelvin

used the ever popular muggle apealtohigherpower charm in this post.
"Dear Professors,
In January, I attempted a self-designed cowl for Flying class. It went a bit wrong and so I frogged it. Since this seems an ideal opportunity to work the kinks out of my pattern I'd like to give it another go now. I thought I'd better drop in before I get started and present you with my proof of frogging aka. the newly wound ball of please-let-it-work-this-time.
Ah Arithmancy - not something I've ever found funny, but clearly
Naturallyknitty

has a different take on it.
"I love love love the number 7…. even before i knew it was a magical number! (well 7 and 3 and all combinations)… My daughter is in Kindergarten and needed a crazy hat to celebrate Dr Seuss's birthday on March 2nd… I just used up a bunch of yarns (ahem, 7 of them) on this and tried to make it as "crazy" as i could… She wore it that day to school and loved it… I inserted a cone for that day so it would stand up and be extra crazy… and took it out that night. But she has been wearing it every day since then!"
DADA....Umbridge....what's not to laugh at?

S

olfjader

, I agree with your son.
"With this homework I have learned how to do a toe-up sock, I have also made a scarf to pull up and keep me from snide comments. I got so inspired by Luckynumbers Luckynumbers's sockmark that I received i the Huffle Love exchange. But I don't like knitting that small… So I thought "a sockscarf". I used the Dobby style sockmark as inspiration also. But I altered to after-thought heels (which I just learned how to do as well). Project page
My husband thinks I am a little crazy, but my 14 year old son (who is a Potter fan) appreciate "the madness"

"
History of Magic brought out the gigglier side of athletics this month with

Tzippi

controlling the pitch:
Professors? Good afternoon, I've just come in from the Hogwarts First Invitational House Unity Croquet Tourney and Groundskeeper Appreciation Lawn-Admiring Fête (HFIHUCTGALAF). Organized by the Muggle Leisure Activities Club, we're hoping to encourage wizarding youth to experience Muggle life through extracurricular games. Croquet is one of my favorite sports, as it requires no running or sweating, and can be performed while having tea or other afternoon libations (by which, I mean, of course, pumpkin juice. Pay no attention to the Slytherins standing by the punch bowl looking innocent. I mean, do. Because they look so innocent)."
One of the most important elements of croquet is the pitch on which it's played - a nice, even lawn is preferred, preferably of a rich, emerald color. In honor of the excellent work of the Hogwarts Groundskeeping staff, which made the HFIHUCTGALAF such a resounding success, I charmed this jaunty hat to be worn during the tourney and fête."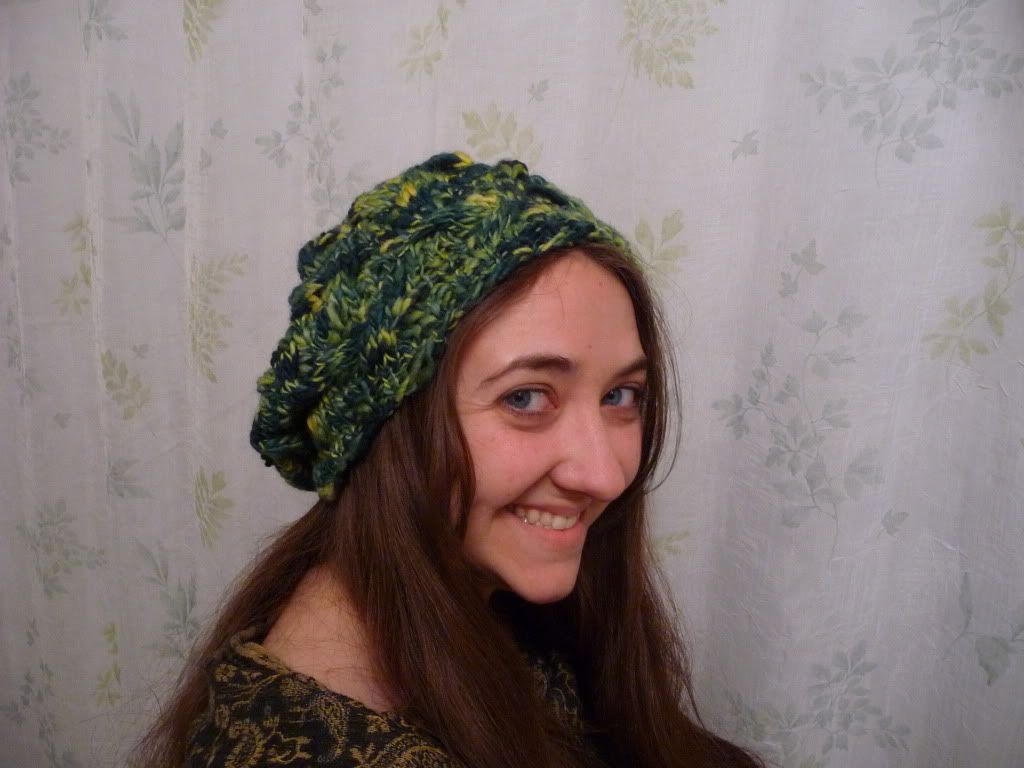 I take exception to your comment about Slytherins. I've NEVER looked innocent in my whole life thank you very much. ;)
Finally from the realm of a truly funny species, muggles comes the muggle studies moment of mirth. Brought to you by
Gothknitty.
"I have noticed that some Muggles tend to come in pairs and that they often give each other headaches. I have therefore crafted a pair of Brain Ache Relievers for a pair of Muggles.
By wearing the Relievers and manipulating the relevant lobes, Brain Ache can be taken away. This may also work for head freeze, but I haven't tried it yet.
There may also be a further application in aiding memory loss and assisting with learning….. But I have to get these past the Ministry first!!!!!
ETA: Also, the colour blue is used alot in Muggle Healng Centres… Surgeons on Greys Anatomy wear blue… and also Dr Crusher in Star Trek TNG (a Muggle programme from the future- I didn't realise they could manipulate time like that!)."
Well, that's it for Weasley Worthy Winter 2011. Thanks to all of you house cuppers with a sense of humor and keep smiling as we craft crazy for the next 16 days.