Hey guys! I'm really excited to post the first week's installation of Class Highlights! This is where I post my favorite assignments from each class (and believe me the decision is really difficult, since everyone is handing in some really amazing projects). Projects can be chosen for any reason, either the pattern used, the story, making your first crocheted object, or using a technique that you've never used before!
So without further ado, here are this week's Projects---
Heading it off is BadAmy of Slytherin house with her
American Beauty Rose
Headband
.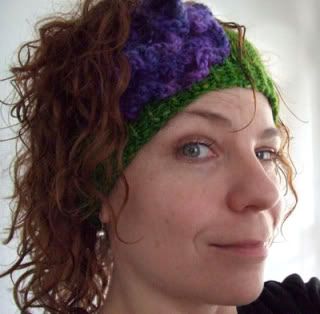 This project was very well done, with great colors. I really loved the look of it, and have to say that I'm very tempted to forget all about the other projects I have planned and make one myself. She also had a clever story to go along with her project. I think you really need to work on those hypnotic effects for those hotties though! Keep at it!
Following that up is MightyGoodYarn of Ravenclaw with her artistic rendition of
Odin hanging from Tree of Knowledge.
Alright, this just looks cool. I really love the look of it and believe it was very well thought out. The fact that it was used for her art show is fascinating. I hope your show goes really well! You'll have to let us know how that goes!
We have another impressive project from Slytherin house, the sn
akes are really pulling out all the stops this week. Grirova handed in a really amazing project for History of Magic this week, the
Shroud of Herpo
.
Not only does this project look lovely, but the story and research behind it was going above and beyond the ordinary level. It connected not only the history of the Chamber of Secrets, but also the history of the monster that resided there.
The next is another Slytherin who also created a project that seemed to
go above the ordinary level, Elfielori with her
Wrenna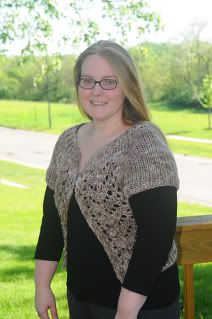 .
To be able to create a cardigan in three days is more than impressive, it's downright astonishing. It's absolutely beautiful, and you did an excellent job!
Charms is up next with a pretty amusing project from Gryffindor's resident enabler CherrySprinkle
with her
Killer Bunny
.
He's adorable in a psychotic kind of way. I'm really glad you got him to put the knife down though. No more bringing shiny spindles near CherrySprinkle while she's practicing Charms, deal guys? We don't need more knife wielding bunnies roaming the halls of Hogwarts.
Finally, we have Potions class. This was a tough one cause I really liked so many, but in the end a first year Gryffindor pu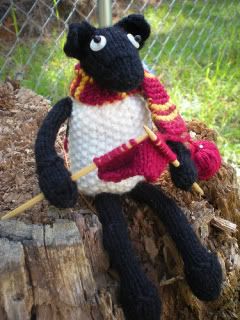 lled out a pretty great project with her
Gryffindor knitting sheep
. Great job on her Savvyknits!
This little knitting sheep is fantastic. A pleasant surprise for the potions ingredients to create something so adorable. I hope she keeps knitting for a very long time.
And there you have it folks! Those are the project highlights for this week. Keep up the great work, I expect you guys to make my decision next Thursday even more difficult. I welcome the challenge. So bring it on!