SadieLou of Ravenclaw House was apparently strolling through the blog recently and noticed that the countdown timer and clock gizmos over there ====> were not working correctly. So she contacted DNATheory, our Editor-In-Chief to see what was up.
Turns out, the site I had been using for those gizmos decided to start charging for memberships, and so neither code was working right anymore, and the countdown begin displaying randomness. For this, I apologize.
Through a process of trial-and-error (and swearing) on my part, both gizmos now appear to be working correctly.
And so, for Being Awsome and keeping the blog staff on our toes, SadieLou, I would like to send you a set of stitch markers that I made to put in my as-yet-unopened Etsy shop: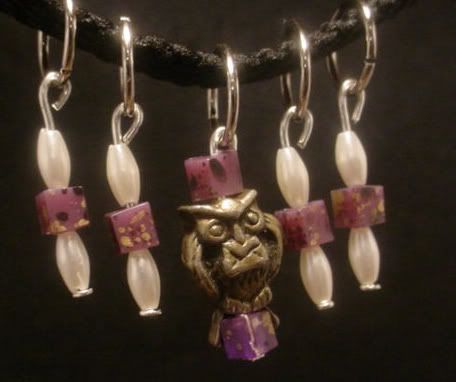 If you would be so kind, SadieLou, please PM your address to me, CrazyRedheadChick, I'll get them in the post ASAP.