Septembers Potions Assignment was to make the DRAUGHT OF LIVING DEATH: Start with powdered root of asphodel mixed with an infusion of wormwood (EASY)
Knit and/or crochet a single project holding two different yarns together than you would NEVER normally carry along (such as acrylic and angora).
Bigbadpug made this super cute mini-house sweater from her own handspun and dyed corriedale!
This scarf by hoodlumknit is made using Lion Brand ribbon yarn, Louet gems Riverstone and some plarn that made from Hawaiin leis!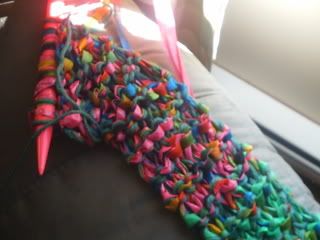 My new favorite HP pattern... Pygmy Puffs! Finally a way to use up all that awful eyelash yarn! This one is by AngelaMarie.